January 10, 2018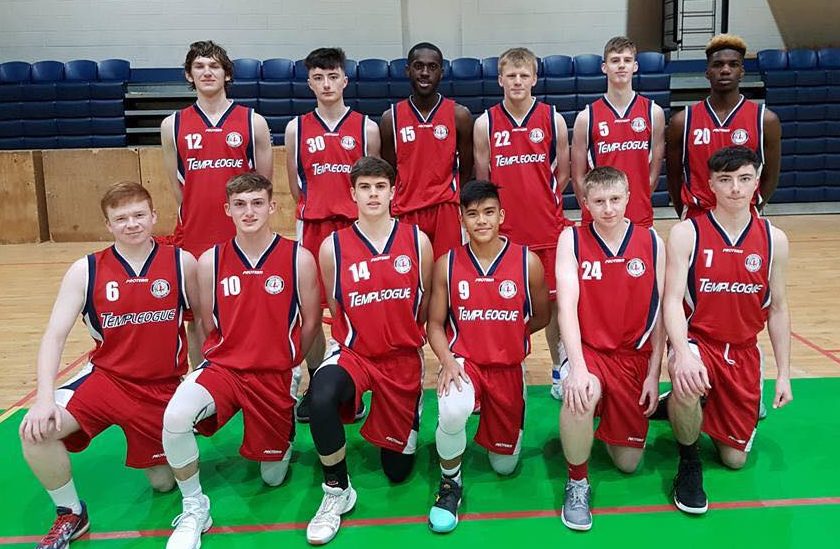 Hula Hoops U18 Men's National Cup Semi Final
KCYMS 61
Templeogue 72
January 7th, 2018 – Neptune Stadium
WATCH: https://www.facebook.com/bbireland/videos/1673418369416668/
Templeogue ran to victory over KCYMS in the Hula Hoops U18 National Cup Semi Final to book a matchup with Neptune at the end of January.
KCYMS built up an early 9-2 lead as they started the game at in incredibly fast pace. The young men from Kerry had great success on the fast break but also made no mistakes knocking down three pointers. Templeogue settled into the game soon after with help from point guard Kris Arcilla. However, the sharpshooting of KCYMS' Liam Croke had his team up 21-16 at the end of the first quarter.
Both teams kept the same fast pace during the second quarter. KCYMS attacked the basket with ferocity, every chance they received, lead by David McCarthy. McCarthy seemed to have unlimited stamina as he ran from the start to finish of the half. Templeogue's Tom Phelan stepped up with some big scores for his team and the teams went into the changing rooms at halftime, neck and neck, 30-30.
The teams were unable to convert chances early in the second half but they were soon urged on by their supporters. Nice outside shooting by KCYMS was matched by fast break scores by Templeogue's Kris Arcilla to keep the sides biting at each other's heels. A quick run at the end of the quarter had Templeogue leading, 46-52.
As the fourth quarter went on, Templeogue did a fantastic defensive job of limiting KCYMS' scores. McCarthy and Croke put every effort into fighting Templeogue's lead but good scoring from Iarla McKeon and defensive pay from Aston Kisuka, ensured Templeogue's place in the Hula Hoops U18 National Cup Final. Final score: KCYMS 61-72 Templeogue.
KCYMS: Roan Moriarty, Sean Hogan, Linus Burke, Ewan Weldon, David McCarthy, Daire Cleary, Daragh O'Connor, Ronan Fitzpatrick, Eoin O'Sullivan, Eoin Evans, Liam Croke, Tim Moscal, Kevin Fitzpatrick.
Templeogue: Tom Phelan, Kevin Robinson, Iarla McKeon, Kris Arcilla, Jack Walsh, Matthew Thompson, Harris Webster, Matthew Harper, Aston Kisuka, Soloman Snow, Adam Riordan, Conor Flood, Finn McKeon.
KCYMS 61–72 Templogue
KCYMS Top Scorers: David McCarthy 14, Liam Croke 13, Eoin O'Sullivan 11, Ewan Weldon 11
Templeogue Top Scorers: Aston Kisuka 14, Tom Phelan 13, Matthew Harper 11
Halftime Score: KCYMS 30-30 Templeogue.