January 30, 2020
BOTH Griffith College Templeogue captain Stephen James and Head Coach Mark Keenan have pointed to National Cup experience as one of the key factors in seeing their side past the huge challenge of near neighbours DBS Éanna in this season's final in the National Basketball Arena on Saturday night.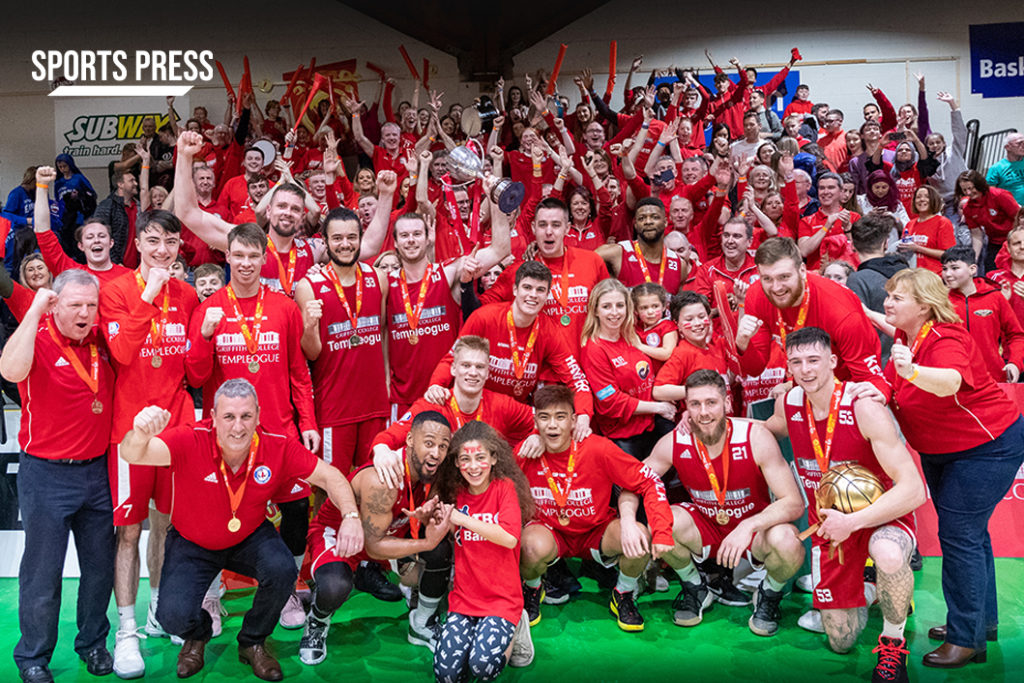 The Reds had to draw on every drop of that experience to dig out a 78-68 victory in the decider and raise the coveted prize for the third time in five seasons.
Winners of this competition back in 2016 and '18, Keenan's men had to weather a ferocious comeback by their near neighbours that saw them battle back from 13 points down at halftime to draw to within two as the game's last couple of minutes ticked away.
But a Neil Randolph three-pointer together with a Jason Killeen bucket handed Templeogue back some breathing room down the stretch.
"We've been there before, so that experience really helps" Templeogue skipper James told The Echo.
"They [Éanna] have a lot of talent and a lot of weapons and we knew they would make a run at some stage, it's just that it came at a very critical point in the match" he said.
Coach Keenan was of the same opinion, saying "Without that experience we could have panicked and lost our way. We had that composure and didn't let that pressure rattle us to the core.
"Neil [Randolph], with that three down the stretch, was huge for us. You could see he was teeing himself up for it, but to have the confidence to take that on was great."
It was an electric start by both sides, but scores from Jason Killeen and Darren Townes helped push Templeogue into a 12-6 lead after five minutes.
Mark Reynolds' presence under the boards coupled with timely baskets from Josh Wilson kept Éanna in touch.
But it was the clinical Lorcan Murphy who really hurt the Rathfarnham side with a massive 28-point first half haul that went a long way to seeing Templeogue take off in the second quarter and open up a 44-31 lead by the halftime recess.
"Lorcan has really made a name for himself over the last few seasons and he's now one of the best, if not the best, player in the country" insisted James.
"They just couldn't stop him on the night. It wasn't that he was scoring from just one way. He was scoring from outside, lay-ups, free-throws."
Nevertheless, spurred on by deafening support, Éanna began working their way back with Neil Lynch punishing from the three-point mark and Daniel Heaney and Paris Ballingar also chipping in from distance.
Nine points separated the sides heading into the final quarter, but Éanna continued to press through Lynch, Wilson and Stefan Zecevic, reducing their team's arrears to a solitary score.
But experience on the big National Cup stage proved priceless for the Reds, as Killeen, Randolph, Puff Summers, Murphy and James all delivered when it mattered.
"Five trophies in five years is pretty amazing, but a lot of work and effort has gone into this and I think we've deserved it" said a delighted James. "We earned that success and hopefully there'll be more to come.
"We're blessed with the amount of talented players and coaching staff that we have. There's a lot of leaders there. My name is down as captain, but everybody deserves the credit.
"I've been part of the club since the academy, so it's been nice to make that transition to the senior ranks" he added.
"I'm really proud and delighted for the players" added Keenan. "It really is a golden era for the club and hopefully we can keep it going now.
"What I thought was great was that, in the row behind us on the night there was Michael Bonaparte, Shane Homan, Ronan McLoughlin and Paul Cummins who have all played such a big part for the team and, for them to be there on the night, was just great" he stressed.
Another of the Templeogue's powerhouse players Jason Killeen also applauded the contribution of past talent to the club's most successful era, telling The Echo "It's been really nice to be a part of this.
"A lot of guys have come and gone in that time, but every one of them have left their imprint on the team and that's something we value and cherish.
"Even the new guys, when they come in, they get that sense of tradition.
"The thing is, it's a relatively young Super League squad, but the club has been around for a long time and they have done tremendous work."
Report by Stephen Leonard, The Echo Newspaper