November 27, 2016
A cold Saturday evening was in store for all the faithful travelling Templeogue BC supporters, thankfully some had come prepared and brought their blankets, even a table official had the foresight to bring a hot water bottle!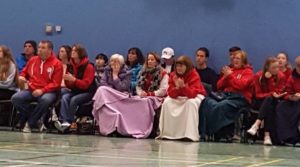 March 2016 saw Templeogue BC lose a close fought game against a feisty UL Eagles team, so pride was very much at stake as they once again arrived at the UL PESS Building. A hard floor, dim lighting and multicoloured lines were not going to deter the Men's Super League leaders as they opened strongly.
Lorcan Murphy came out of the blocks first with 5 straight baskets. Mike Bonaparte, returning from receiving his Hall of Fame accolade, helped Lorcan on his way with a number of excellent assists. Not to be outdone he managed a few baskets of his own to end the game with a triple double. Limerick native Jason Killeen, relished the return to his home town and was impressive under the rim with 13 points, 7 boards and 3 assists, all in only 16 mins.
By half time a 21 point lead had been established and even though the supporters had to reach for their much needed blankets, the players stayed warm by notching up 31 points in the third quarter, pulling away from a determined Limerick side. Lorcan now had 21 points, but wasn't done quite yet, he added another 9 points in the third, and eventually finished the game with an impressive 34 points. Captain Stephen James took a well deserved rest and enjoyed the rare view of the game from the bench for the majority of the fourth quarter.
Not to be outdone, the bench players played a critical part in keeping the lead stable. Neil Randolph had an impressive 100% record – not missing any shot he took, and adding 16 points to the 113 points total. Two highlights of the third quarter were when, 'big man' Baolach Morrison had an amazing block off the base line and Alan O'Neil had a full court sprint to block a UL fast break. Ben Warringtons stoic defense was immense, not to mention his offensive rebounding, which netted him 6 points. The youngest on the team, Sam Walsh, joined the action with 6 minutes to go and calmly added 4 points of his own.
A great team effort, which resulted in a 113-64 point win. The faithful supporters, who outnumbered the home supporters, returned to their warm cars to fight the fog on the happy road back to Dublin.
Top scorers for TBC:
Lorcan Murphy 34
Mike Bonaparte 22
Neil Randolph 16
Jason Killeen 13
Next weekend sees Templeogue play the first of 3 games in 8 days when they take on Moycullen, Thunder and Tralee. Dates, venues and tip off times below.
Dec 3rd – SSE Airtricity Moycullen (Men's Super League), Oblate Hall 7.30pm
Dec 7th – GCD Swords Thunder (National Cup Quarter Final), National Basketball Arena 8pm
Dec 10th – Irish TV Tralee Warriors (Men's Super League), Tralee Regional & Sports Leisure Centre 8pm
As always we hope to see the fantastic Red Army out in force to help keep our unbeaten Men's Super League run intact, and also lead us on to the Semi Final of the Hula Hoops Men's National Cup. Let's go Templeogue!!!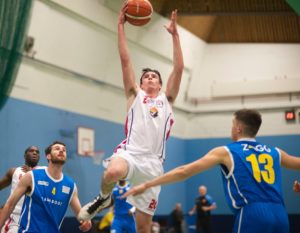 Templeogue's Lorcan Murphy finished with a game high 34 points.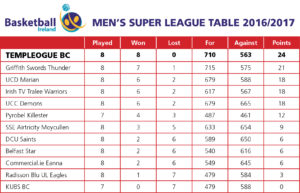 Photos courtesy of Rock Mountain Studios (main photo) & Pat Shanahan Photography (story photo). All images rights reserved.
Templeogue Men's Super League team are sponsored by Black Amber, Quillsen Estate Agents, Proteam Basketball and The Terenure Inn.