June 12, 2018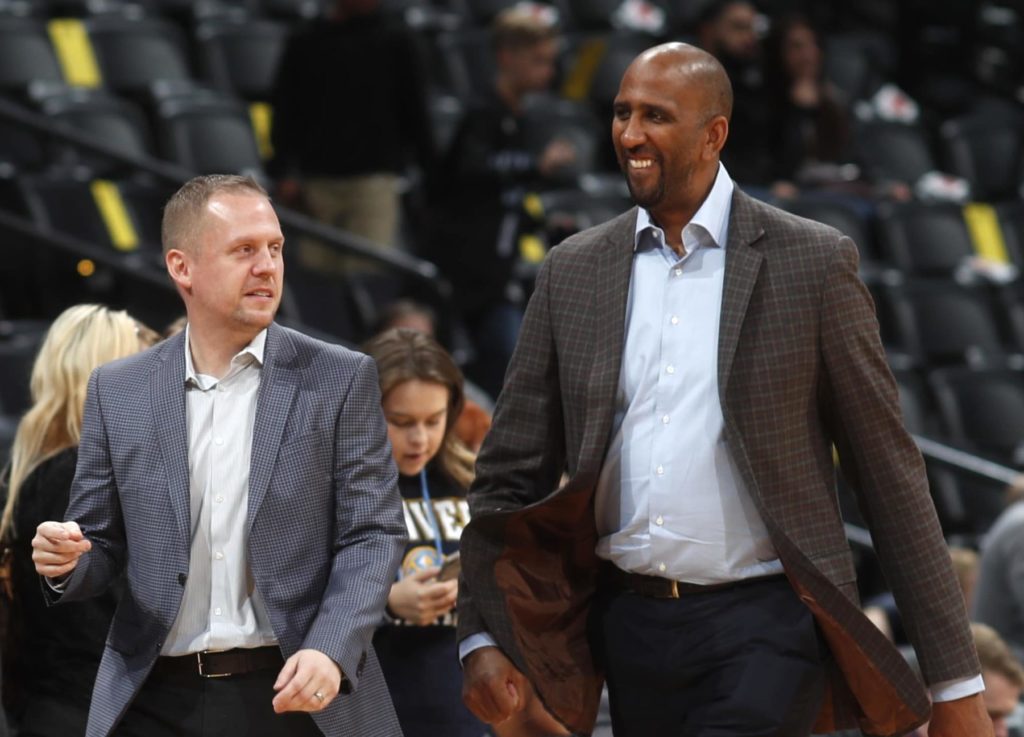 Nick Kosmider
The Irish teenager with the broken basketball heart walked into the gym in Dublin, his thoughts bouncing far from home.
Luke Thompson was 14 years old and one of the rising young basketball prospects in Ireland back in 2009, and he had earned an invitation to battle older competition and try out for the country's under-16 national team. But Thompson had become the final casualty of roster cuts, and as that team headed to the European Championships in Portugal, the disappointed teenager settled for attending a summer skills camp in his home city.
Thompson hadn't thought much of what might come out of the event. The real prize, he believed at the time, would have been testing himself against older players some 1,600 miles south. Nine years later, Thompson still revels in just how wrong he was. That's because, in the gym that day, Thompson met his 7-foot basketball lifeline.
"It's the only time I've been cut, but, man, I'm glad I was," Thompson, now 23, said this week from Ireland, where he is playing professionally in the country's top league while also practicing with the senior national team. "If I hadn't been cut, I never would have met Cal or be where I'm at today as a player or as a person. Basketball aside, he is probably the smartest dude I've ever met."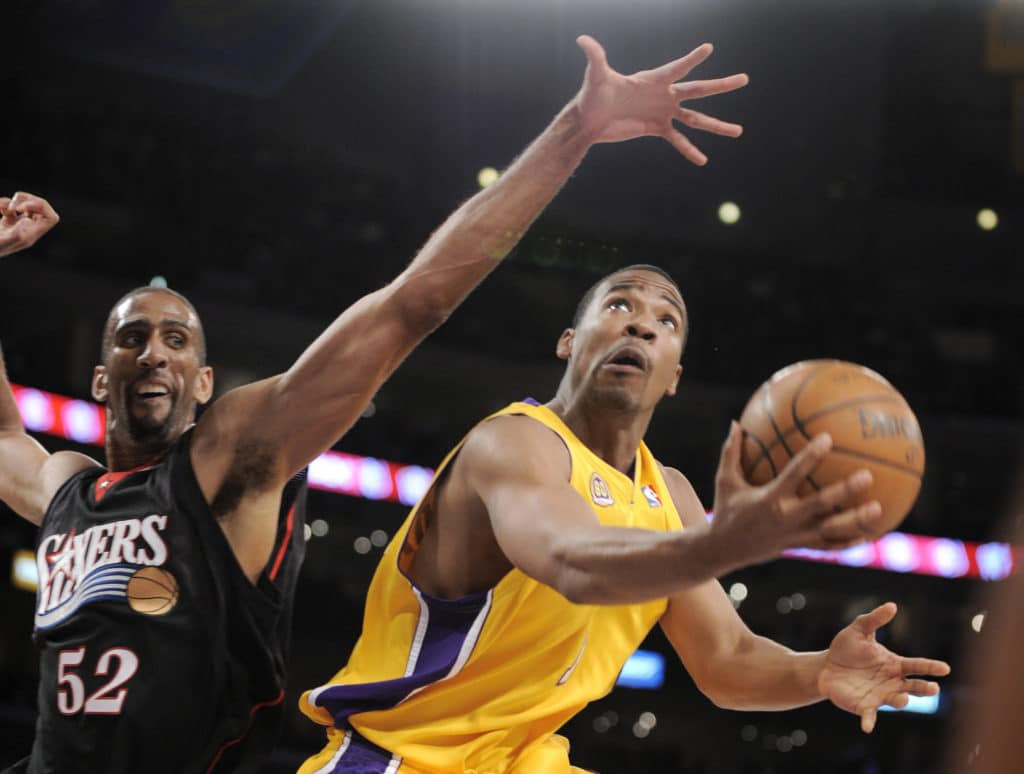 Calvin Booth, left, playing for the 76ers in 2008, averaged 3.3 points, 2.8 rebounds and 1.0 blocks a game during his 10-year career. (Photo by Mark J. Terrill/The Associated Press
Cal is Calvin Booth, the former NBA journeyman who has cemented himself as one of the rising front-office figures in the league, even as his ascension to those heights has taken place largely out of public view. He was hired as assistant general manager for the Nuggets last August following a four-year stint in various roles at Minnesota, where he helped construct a Timberwolves roster that ended the franchise's 14-year playoff drought in April. Now, he's tasked with helping Denver president of basketball operations Tim Connelly and general manager Arturas Karnisovas get another young and talented lineup over the postseason hump.
"He's one of the brightest basketball minds I've ever been around," said Connelly, whose relationship with Booth dates back to 1999, when the latter was a second-round pick of the Washington Wizards and the former was an intern in the team's scouting department. "He's extremely intelligent, both in relation to basketball and in any matters world related. It's great to have a guy of that level come into your organization from a different organization and challenge some of the things we believe and challenge some of the internal thought processes."
If Booth is to help the Nuggets reach the playoffs or one day take charge of a front office of his own, it will surprise nobody at the Templeogue Basketball Club in South Dublin. They have known for years what Booth can build.
"What he brought here was belief," said Luke Thompson's father, Mick, who has been associated with Templeogue for most of his adult life and was a longtime coach with the club. "He believed in us. That kept us going, and it took us to a new level. We were able to go from being a small local club in Dublin to one of the top Super League teams in the country right now. There is zero chance that would have happened without Calvin's input and belief in us."
To know why he kept folding his tree-branch limbs into airplane seats for flights across the Atlantic Ocean, visits that occurred frequently in the years after he retired from a 10-year playing career in 2009, there's a fundamental truth to understand about Calvin Booth.
"I'm a basketball junkie," he said recently, a slow smile forming across his face as he sat in an empty suite inside the Pepsi Center. "I'm a fan at heart."
It's the only way to explain why, when Connelly offered him a job in Washington's scouting department shortly after his playing career ended, Booth opted instead for a more obscure path. Putting his executive aspirations on hold, he founded Nova Village in Columbus, Ohio, where Booth had starred in high school before playing at Penn State. The all-encompassing program was developed as a way to transfer all the knowledge Booth had compiled as a pro, when he'd write his own detailed scouting reports at the back of the team plane, to aspiring young players in the area. The youth basketball space can be crowded with big promises and little substance. Booth was constructing an inverse blueprint.
"He would connect with them about skill training, how to take care of their bodies. He'd bring in a yoga instructor. It was really just giving them all the resources necessary to succeed, and this was all on his bill," said Andreas James, who is Nova's current director of training and program development. "His model was different. Instead of playing in tournaments every weekend or every other weekend, the group spent more time training and developing and would play in tournaments like once a month. What I've always enjoyed about Calvin is he has a unique way of seeing models and coming up with different results. Over a period of time, if you compared some of the models he was doing with some of the traditional AAU models, the kids in his program were improving (more) drastically over that period of time."
One of the those models Booth gravitated toward was in Ireland. The driving force behind Booth's work with Nova Village was an insatiable desire to consume basketball, with no prejudices weighed against its style or location or characters. Even, it turned out, if that need to breathe the game took him to a country that can claim exactly one NBA player, Pat Burke, among its native born.
At that first camp, in the summer of 2009, which he attended alongside Connelly and former NBA forward Roger Mason Jr., Booth met Mick Thompson, and the two became fast friends. When Booth returned to Dublin that fall, the two men met for dinner and the conversation steered toward basketball and Templeogue. Mick himself had played for the club's pro side back in the 70s. His career high was 45 points. Luke has reached 44 points nine different times, but never more. "One day I'll get him!" the son said.
This generational zeal for a sport that was something below an afterthought in Ireland appealed to Booth.
"I was interested in doing something internationally, and the basketball scene over there was wide open," he said. "It's like the wild, wild west. It's like the sixth-favorite sport over there, but the guys who are into it are really into it. Guys like Mick are fanatical about it. At first, I was going to do something with Basketball Ireland (the sport's governing body in the country), but I then I got connected with Templeogue and Mick, who is such a good guy. They were great hosts, and I just started going over there and connecting with them."
Templeogue didn't have much to show off, and it wasn't alone. By 2010, Ireland had been forced to pull the plug on all its national teams, the result of massive debt Basketball Ireland had incurred leading up to a time when much of the country's economy was suffering. The ball kept bouncing at the club level, but individual teams didn't have the resources for any high-level training or much of anything else, really. And it wasn't nearly as easy to watch the American game a decade ago as it is now.
"We were trying to go through this process without having too great of a background in it," Mick Thompson said. "We were reading from books and getting what we could from the internet. Calvin came in and said, 'You are on the right track.' So he brought out more of what we were trying to do."
When Booth returned to Dublin again in February 2010, he teamed with Templeogue's technical director, former Appalachian State assistant coach Ahmad Smith, to set up formal camps for the 20 teams of various ages, boys and girls, the club had at the time. Booth and Mick Thompson would meet at 8 a.m. and head to the gym, and Booth typically wouldn't be dropped back off at his hotel until 10 p.m. It was a schedule that would repeat each time Booth returned to Dublin, during week-long breaks in the city's school schedule.
"He worked so hard," Mick Thompson said. "We'd try to take a break for lunch back at the house. But then we'd hear that there would be another session breaking out at the camp and Calvin would say, 'We better go over there,' and we'd be right back up at the gym 10 or 15 minutes later."
One of the players who would frequent Booth's camps and try to steal one-on-one sessions was Sean Flood. Not everybody at the camps had dreams of a basketball future, but Flood did. As a young kid, he had happened upon a telecast of a University of Texas basketball game, and he was enamored with the way the Longhorns point guard, D.J. Augustin, controlled the game. Flood wanted do the same thing, but it wasn't until meeting Booth that he realized what becoming a college point guard would take.
"In Ireland, basketball isn't a prominent sport, so it's different over here," said Flood, who now plays for Longwood University, a Division I program in Virginia. "We wouldn't practice every day. We'd probably practice for an hour-and-a-half one night during the week and have a game on the weekend. Calvin let us know that if you want to play at a high level that's not nearly enough. You need to be in the gym by yourself."
Flood didn't put the ball down after that. He began dedicating 20 hours per week on his own time to basketball, a combination of skill work, weight-lifting sessions and conditioning runs. The big-picture idea of adding more volume to their basketball schedule was important for Flood and the other young Dubliners, but what players in those camps still marvel at is how generous Booth was with sharing his knowledge of the game's finer details.
"He notices tendencies and habits of guys that they wouldn't even know they were doing themselves," Luke Thompson said. "He can break down to the most precise detail, what a guy is doing with his movements and how it works for him. And those small things are so crucial."
Flood remembers one light-bulb moment with Booth that changed his game. The point guard kept getting by defenders as he throttled downhill, thanks in part to Booth's tips about swiveling his hips open and closed. But his beeline to the basket typically ended with his high-speed layup attempts over taller defenders careening off the rim or backboard.
"Attacking the basket, when you're going through contact and getting your shot up on the glass, he taught me that you sort of have to spin the ball to give it a better chance of going through the rim because you may not get a clean look off the square," Flood said. "I just learned to play through contact like that. It was really beneficial for me."
Booth soon began fusing his two new basketball worlds. In the summers, he would bring some of Templeogue's players to Nova Village, giving them the opportunity to test the new skills they had acquired against American competition. Mick Thompson would marvel, each time Luke returned from his stays in Ohio, at how much more skilled his son had become.
"To say meeting Calvin lit a fire for me to try take my game to the highest level I could would be the understatement of the century," Luke Thompson said.
That fire, from Thompson, Flood and other players who benefited from Booth's interest in a small local basketball club in Dublin, lit a renaissance for Templeogue. Thompson's group won four national titles in a row, from U17 to U20. Last year, the club's senior men's team won the Super League regular-season title for the first time. This season, they captured their first National Cup as the winner of the league's top postseason tournament.
The country as a whole is riding a new basketball wave now too. There are more team's in the country's premier league (12) than ever before. That includes a recently added team in Tralee, a town of just 23,000 that sits on the neck of Dingle Peninsula in the southern part of the country. Tralee's teams, the Warriors, joined the league in 2016 and already boast some of the country's largest home crowds.
"If their game is tipping off at 8 o'clock, the gym will be almost full at 6 o'clock," Mick Thompson said. "You won't be getting in by 7."
The national teams have been reinstated and Basketball Ireland has cleared its debt, opening up doors for more resources and training. The federation recently announced a partnership with the NBA to launch a Jr. NBA Basketball Ireland League for boys and girls, ages 11 and 12, which will provide more exposure to the game. Then there's Aidan Harris Igiehon, the 6-foot-10, Dublin-born phenom who is currently playing at a prep school in New York has received offers from most of college basketball's biggest programs. Many in Ireland believe he'll be the country's first well-known NBA name one day soon.
Booth, of course, would loathe to take credit for any of this. As a player, perhaps the only thing Booth was known for more than blocking shots — he once had 10 of them in 17 minutes — was his humility, a trait that has carried over into his career as an executive. Asked what he enjoys most about being around Nuggets star and fellow center Nikola Jokic, Booth politely made an assertion. "First of all, Nikola is like a billion times better than I ever was. He might have more talent in his pinkie finger than I have in my whole body."
So, yeah, Calvin Booth will steadfastly fight the notion he changed the sport in Ireland. But even he can't argue this: to at least one group of dribbling Dubliners, he brought a belief that changed basketball fortunes.
"For us, NBA basketball players are a myth," Flood said. "We just see it on the television. It's not real life for us. To see someone of that level in your gym, in the flesh, and you get to interact with him, ask him questions, pick his brain about small things, it was really huge."
Connelly called Booth with another job offer in 2012, this time as a regional scout with New Orleans, where Connelly had become the assistant general manager. After one year in that gig, working out of his home base in Columbus, Booth became the director of player programs in Minnesota, a "Swiss Army Knife" role that featured everything from on-court development to coaches meetings to various work in the front office. Booth ultimately worked four years with the Timberwolves, the first half of that tenure under the late Flip Saunders and the latter half under current coach and president of basketball operations Tom Thibodeau. There was mutual interest in having Booth return to Minnesota last season, he said, but when he got another call late last summer from Connelly, who Booth describes as "my mentor," the opportunity was too good to pass up.
"I figured that if I was ever going to do it, it had to be now," Booth said.
Even as he rises in the ranks of the world's greatest basketball league, Booth's thoughts are never far from Ireland. He met the Thompson family in Brooklyn two years ago when the Timberwolves were visiting the Nets, and Booth communicates with Mick and Luke frequently. There are tentative plans to link up again when the Thompsons make a trip to Boston later this year, should their schedules work out favorably.
"Their change, becoming a successful program, to be there at the beginning of that process, it does feel rewarding," Booth said. "I'll have a connection with that family forever."
Booth is now tasked with helping build the Nuggets into long-term winners. That small club in Dublin believes it's only a matter of time.
(Top photo of Nuggets GM Tim Connelly, left, and assistant Calvin Booth by David Zalubowski/The Associated Press)
Original article appears on theathletic.com